Key results:
→ Real-time insights into every marketing channel
→ Reduced CAC, higher ROI on the right marketing channels
→ A custom media mix model built in just 30 days
Marketing attribution is often a data exercise that evades many marketers. Some try to attribute channel performance by measuring first touch, others use last touch, and some just set their marketing spend and if they see results—they keep doing what they're doing. True marketing attribution, and knowing where to spend that extra dollar or how to shift current spending to get real ROI, is a challenging process. Without the right tools, marketing attribution becomes a guessing game that doesn't account for every channel or every dollar.
For years, the marketing team at Weave, an all-in-one customer communication and engagement platform for small businesses, used a first-touch model to measure marketing attribution. The team would give some leeway to specific channels they knew were delivering more than they could really measure, but overall, attribution was reported as a best guess. Bryan Archibald, the Sr. Director of Digital Marketing and Analytics, joined the marketing operations team and was ready—with leadership's support—to get a true read on marketing attribution so the team could dial up what was working, lowering their CAC and increasing their ROI.
Bryan shared, "My responsibilities are really around ensuring that we're getting a good return from our marketing. It's my job to help our team invest in the right areas and help the marketing team make good decisions about where to spend our time and money to get return." In Bryan's current role, he also manages the website team and the marketing automation team. With all of marketing operations under his direction, Bryan was ready for a better marketing attribution solution—and he found what he was looking for in Align BI.
Partnering with Weave to help solve their marketing attribution challenge, Align BI implemented their custom media mix model to help the team get real-time insights into every dollar of their marketing spend. The model is built using Weave's specific data, producing unique recommendations that are specific to Weave. With this new model, Weave could instantly see what channels were producing higher ROI, what channels they might need to dial down the spend on, and where they could spend more to get the best return if their budget increased.

"Oftentimes, with attribution models, it's really hard to make decisions. But with the tool Align BI built for us, we're getting incredible insights and we can spend our marketing budget in the most efficient way possible," said Bryan.

---
The Challenge
Weave's old marketing attribution model was based only on first touch.
Before using the Media Mix Model that Align BI built for Weave, the team's marketing attribution was based purely on first touch. "Our marketing attribution was based on what we were measuring in Salesforce. It was a first touch model with a 30 day cookie duration," said Bryan. "There was a little bit of allowance based on what we knew other channels were potentially doing that we would be missing out on, given the model of attribution we had available to us."

Some channel attribution was based purely on best guess
The team knew that their retargeting spend was going to look like it performed poorly with the first-touch model. Because of this, the team gave it some allowance when they reported on attribution—but their guesses weren't accurate and they didn't have a way to get an accurate attribution reading.

"We had other channels that we also gave some alliance to as well. There was some idea that somehow these other channels, like advertising partnerships, were impacting everything overall. And we didn't have a way to report on that," said Bryan. "We just weren't really sure if our retargeting ads or our advertising partnerships were really performing."

No clear insight into what marketing spend was working
"The biggest challenge for us was that we weren't confident that we knew how well each piece of marketing spend was really producing demand for us," said Bryan. "We were signing invoices for different marketing campaigns and we just weren't sure if they were worth the money that we were spending on it." Budget allocation became a "set it and forget it" process. The company was growing and they could point to marketing efforts that were working, but there wasn't a deep enough dive into the data to truly see what was or wasn't working.

Increasing pressure to reduce CAC and get a higher ROI on marketing spend
With pressure to reduce the CAC overall, the marketing team needed to find ways to get a higher return out of the money they were spending on marketing efforts. "We weren't paying close attention to ROI. We were spending within our budget and we saw returns, but we weren't sure if those returns were optimal," said Bryan.

Building a new measurement model in house could take years
One of the biggest pain points Weave faced in building a better attribution model was aggregating all of the data that was spread across different platforms. Byran considered creating a better marketing mix model for the company himself. "At first, I thought I would try to build a better media mix model myself. But then I realized that I would have a hard time getting all of the data together that we would need to make the new attribution model," said Bryan. And the BI team wouldn't be able to get this work done for at least a year, maybe even years.

Bryan decided that he needed to contract someone to wrangle the data from all of the marketing spend data from Google Analytics, Google AdWords, Microsoft, all of the social media channels, etc.
---
The Solution
The team needed to make a mindset shift. After years of seeing some returns with their marketing budget and following a first-touch allocation model, it was time to find ways to get the highest possible return. "We needed to do more with the money we were given and make sure there was a tight correlation between the spend and the results," said Bryan.
A media mix model ready for use in just 30 days
Instead of waiting at least year or several years for the internal BI team to wrangle the existing data and then spend the time to build a better attribution model than the first-touch model the Weave team used for years, Align BI was able to collect, organize, and run the data through their media mix model and push the information to a dashboard in just 30 days.

"In just one month we had the media mix model from Align BI. They set up the API connectors and then the dashboards, and within one month we had the first model ready to get insights," said Bryan.

Real-time insights into how to spend every marketing dollar
"The media mix model that Align BI built for our team gave us completely new data insights that we didn't have before," said Bryan. The new model validated that the marketing spend in some areas was growing the business more than other areas. It even helped the team justify spending more money than they were spending with their current budget.

"The new model helped us see that if we had another dollar, we knew exactly where we should put that dollar. We didn't have that before," said Bryan. "The new model helped us manage the mix of how we were spending our money. Before, we would have had to guess. Now, we don't have to guess, we just know where to allocate our marketing spend."

Budget conversations are streamlined, saving everyone time
"Before the model, if we were making some changes to the budget or trying to figure out where to allocate new spend, we would have had a debate," said Bryan. "Before, we had to debate not just the accuracy of the data we were using to determine attribution, but also whether the marketing spend was doing what we wanted it to do." Now, the attribution reports are built in real time. They're quick and accurate and give the team clear direction on what needs to happen next.

Lowered CAC and higher growth made asks for budget easy to prove
Because the model was helping the team see improved results in general—they were reducing CAC overall and seeing higher growth—conversations with finance were so much easier. "We could justify budget asks for other areas we knew would perform well," said Bryan.

The new model showed the team that more spending could be allocated to paid ads for a higher return. "With our first touch attribution model, the spend on paid ads would get under attributed and it was hard to justify," said Bryan. "But the new model showed us that paid ads were performing really well and that was surprising. It wasn't necessarily where we thought the marketing spend should go." The team trimmed other areas and pushed more money into paid ads, seeing an immediate return and incredible results.
---
Results and ROI
In the 2022 Q4 earnings call, Weave CEO, Brett White, called out marketing specifically as an area that was performing well. "It was incredibly validating to hear our CEO say over and over again how great he thought the marketing team was doing and how a big reason for that was that we were smart with our money and we were getting really great returns," said Bryan.
Overall, the media mix model that Align BI built for Weave helped the team see the following results:
→ Increased trust with the CEO and the board
The media mix models have also facilitated greater trust between the leadership team and the marketing team. "Our CEO recognizes that the money he spends in marketing is money that's going to be spent well and we're going to get a return on it. Now we're getting validation on a regular basis now," said Bryan. "The media mix model is producing more than just optimization and opportunity recommendations, it's producing ROI and marketing contribution metrics."
→ Optimized spending to increase ROI
The media mix models don't just optimize to increase pipeline, they also optimize to increase ROI. As we enter the economic climate where people need to be more responsible with their capital and optimizing ROI becomes the main conversation, the media mix models are helping Weave do just that. "The model tells us the relative contribution between channels, where we're maxing out and what we're not seeing," said Bryan. "The old Salesforce reports didn't account for every channel, but with the new model, every channel is accounted for and reported on for a complete picture."
→ A media mix model that accounts for every channel
As a single source of truth for all of marketing's spending, the new media mix model accounts for every channel of marketing's efforts, not just the channels that make it into Salesforce. This has allowed the team to optimize spend across all marketing channels, not just the channels they had visibility into before using Align BI's media mix model.
→ Improved ROI and reduced CAC
With the insights from the new model, Weave is spending more in certain areas that they know are producing a higher ROI and reducing their overall CAC. "The model gives you a clear view of everything and a dial you can use to turn up the spend in areas that work and down in the areas that aren't working. It's like flying an airplane and now we've got all of our instruments in one place," said Bryan.
---
Dashboard Samples
Using sample data, these three visuals offer a quick view into the type of insights Weave can now see with Align BI's media mix model.
Media Mix Model Optimization
Within this tab, you can view a previous and future quarter to see how much you historically spent in each channel and the recommended mix in the future. This model details expected change to ROI, marketing contribution, and overall results.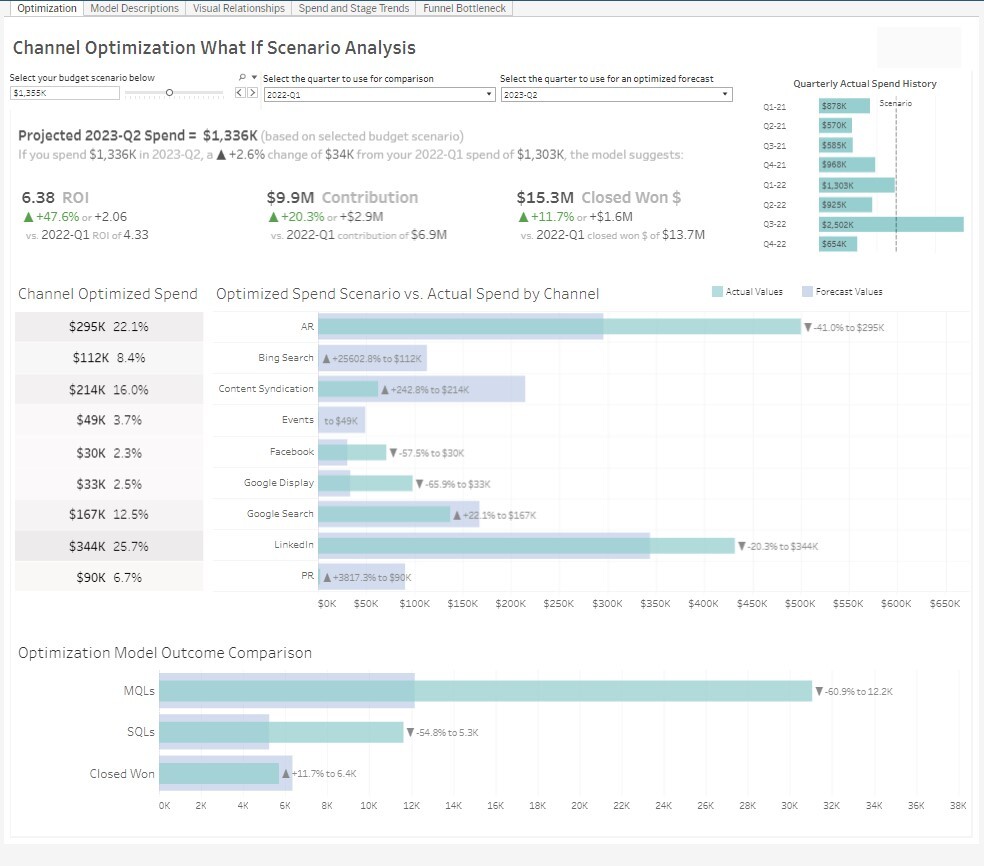 *Data in this screenshot is sample data, not data specific to Weave.
Media Mix Model Descriptives
This tab offers a view into how much contribution the model is giving to each channel and the respective ROI for each channel. It's easy to see how well the model performed by seeing the model's predictions of funnel stages.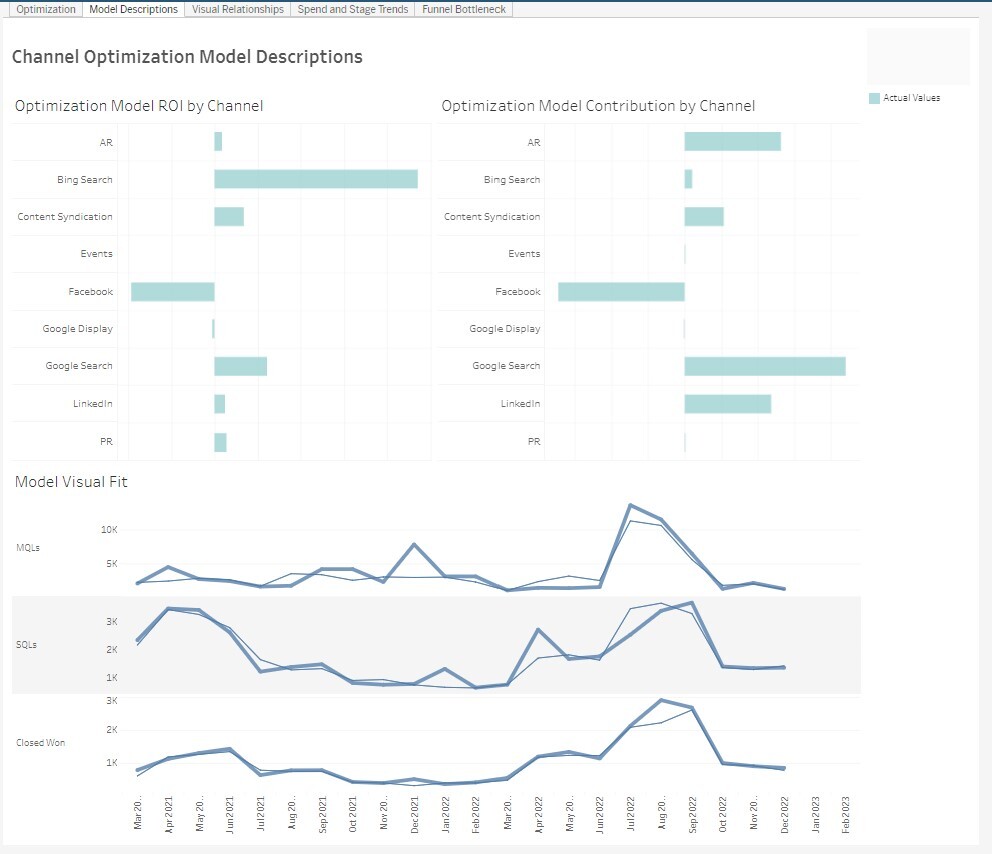 *Data in this screenshot is sample data, not data specific to Weave.
Media Mix Model Trends
Detailing the in-market monthly spend data all together, this tab offers a view that many businesses struggle to see. The collection of the spend data is helpful, even before the model offers other insights.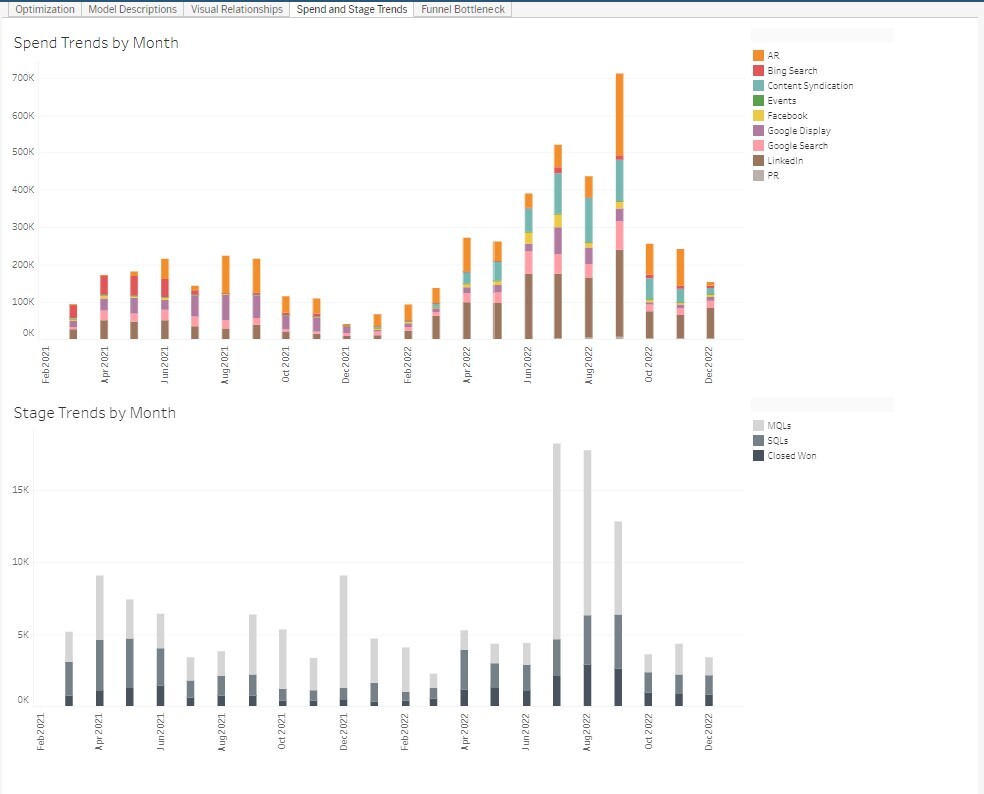 *Data in this screenshot is sample data, not data specific to Weave.
Align BI can help your business with marketing attribution, too.
Get a customized media mix model built for your business with Align BI. We'll help you organize your marketing data and run it through a measurement model that works. Account for every marketing channel and every dollar in your marketing spend so you know exactly what areas are giving you a high ROI and what areas need to be trimmed to help you save budget.
We'll help you get true marketing attribution so you can get faster, better funnel insights and make data-driven changes for real results.
With Align BI, you can:
Organize your marketing and sales data — With custom insights from a powerful media mix model, using your marketing information, your data is organized, easy-to-use, and centralized for faster access.
Get faster and better insights — See clearer insights into every stage and every channel.
Optimize your marketing decisions — Find ways to optimize your marketing using models and engaging data visualizations that can help you leverage your newly organized data.
Use your existing tech – Align BI can leverage your existing data warehouse and business intelligence tool for the data collection and dashboard so your media mix model dashboards are in the same location as the rest of your marketing and business dashboards. If you don't have a BI tool, you can use Align BI's.
Let's talk. Contact us to learn more about our media mix models and how we can help you.